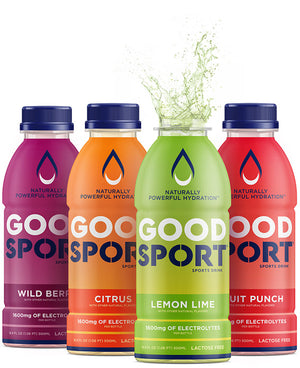 Naturally Powerful HydrationTM
THE GOODSPORT® ADVANTAGE
100%
NATURALLY SOURCED
No artificial flavors, sweeteners or dyes.
3X
THE ELECTROLYTES
than traditional sports drinks
33%
LESS SUGAR
than traditional sports drinks
* Comparisons per 12 oz. serving. GoodSport(tm) 1193mg total electrolytes & 13g sugar. Traditional sports drink 210mg electrolytes & 21g sugar, as claimed on nutrition facts panel. GoodSport™ includes potassium, sodium, chloride, magnesium, calcium and phosphorus in its electrolyte totals. Traditional sports drink includes sodium and potassium.
WHAT'S GOOD
GoodSport® is a first-of-its-kind sports drink made with ingredients from natural sources. It has 3X the electrolytes and 33% less sugar than traditional sports drinks and provides rapid and long-lasting hydration by harnessing the electrolytes and carbohydrates found in milk.
100% Naturally Sourced
Zero artificial flavors, sweeteners
or dyes
BROAD SPECTRUM OF ELECTROLYTES
1600mg of essential electrolytes including sodium, potassium, calcium, phosphorous, chloride and magnesium
FUEL FOR WORKING MUSCLES
Glucose and galactose improve fluid absorption and performance
GOOD SOURCE OF CALCIUM
Builds stronger bones and contributes to muscle function.
B VITAMINS
B1, B2, B6, biotin and pantothenic acid turn nutrients into energy
NATURAL PREBIOTIC
Contains galactooligosaccharides (GOS), a prebiotic that helps promote digestive health
LEARN MORE
An official hydrator of
the Chicago Sky
Official Sports Drink of Premier Rugby Sevens
GRAB THE GOODTM
Good is everywhere in sports. You find it in the wins and personal achievements, sure, but you'll also find it in the life lessons inherent to sports like perseverance, teamwork and sportsmanship. To us, those are wins too. So get out there, Grab the GoodTM, and you can leave the hydration to us.
BUY NOW